Roasted Beet Salad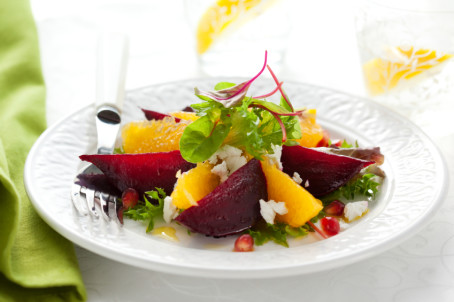 PAIRS WITH

Instructions
Preheat oven to 400 degrees
Put a large piece of aluminum foil on a baking sheet and put beets on it. Drizzle with olive oil and wrap them tightly in the foil, making a packet. Roast until knife inserted into the largest part meets no resistance, about 1 hour. Cool and remove skins (gloves are a good idea to prevent staining your hands).
Cut the peel away from the oranges with a sharp knife, exposing the flesh. Hold the peeled orange in your hand and carefully slice the segments away from the membrane, dropping them into a bowl. Do not disregard the membrane.
Thinly slice the beets and arrange on serving plates, drizzle the plates with olive oil and squeeze a little juice from the orange membrane over each plate. Season with salt and pepper to taste. Garnish with shaved thin slices of cheese and chopped marcona almonds.
Ingredients
4 medium red beets, tops removed and scrubbed

extra virgin olive oil

2 navel oranges

¼ cup marcona almonds, roughly chopped

Kosher salt and pepper

1 small wedge Pecorino Romano, for shaving