Osso Bucco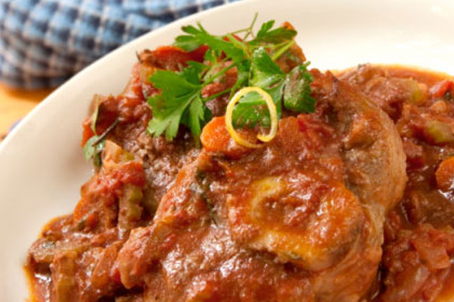 PAIRS WITH


Instructions
Preheat oven to 350.

Season shanks with salt and pepper and dust with flour. Arrange shanks in a single layer in a casserole cover.

Add Marsala, bouillon, garlic and carrots.

Bake 1 ½ hours, then turn off oven and leave shanks in oven for a few hours.

Rewarm in a 400 degree oven for 20 minutes. If sauce is too thin, remove meat and thicken with flour.

Serve shanks topped with carrots and sauce.
*Try a Baked Polenta as a perfect side dish
Ingredients
4-6 Veal Shanks

Quick dissolving flour, such as Wondra

1 ½ cups Marsala

1 (11oz) can bouillon soup

2 heads garlic, unpeeled, cloves separated

6 whole carrots

Salt and Pepper to taste