Minature Gougères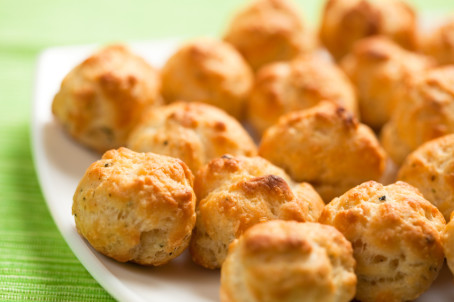 PAIRS WITH



Instructions
Preheat oven to 375 degrees. Lightly grease 2 baking sheets OR line sheets with parchment paper
Combine water, butter and salt in a heavy saucepan and bring to a boil. Reduce heat and add flour all at once. Beat with a wooden spoon until mixture pulls away from sides of pan.
Transfer mixture to a bowl. Using an electric mixer on high speed, beat in 4 eggs, one at a time beating well after each addition. Batter should be stiff enough to fall off a spoon. If batter seems too stiff, beat the other egg and add to batter a little at a time until desired consistency. Mix in cheese.
Drop level teaspoons of dough about 1 inch apart on prepared baking sheets. Bake 30 minutes until puffed, golden and crisp. Check halfway through baking and switch position of sheets.
Ingredients
1 cup water

1 stick unsalted butter, cut into small pieces

½ teaspoon salt

1 cup flour

4-5 eggs

1 ½ cups coarsely grated Gruyère cheese