Red Wine Braised Short Ribs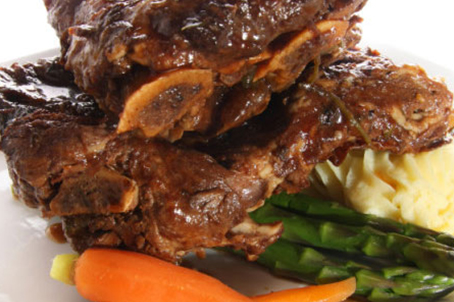 PAIRS WITH


Instructions
Preheat oven to 325 degrees
Pat ribs with paper towel and season with salt and pepper on all sides
Heat 2 Tablespoons of butter in a large Dutch oven over medium high heat. Add ribs and brown on all sides. Transfer ribs to a plate, then add garlic and stir until softened but not browned, about 1 minute.
Carefully pour in the wine, bring to a boil and cook until reduced to about 1-2 cups. Add ribs and any juices they have released back to the pot along with the stock. Reduce heat and bring to a simmer, then cover the pot and transfer it to the oven, to braise, until meat easily falls off the bone, about 3 hours.
Transfer ribs to a plate and tent with foil to keep warm. Strain braising liquid through a fine mesh sieve into saucepan set over medium-high heat. Simmer the liquid, skimming fat as necessary, until thickened, about 10 minutes. Remove from heat and whisk in remaining tablespoon of butter. Taste for seasoning and adjust, if necessary.
Transfer ribs and sauce to a serving dish and serve with mashed potatoes and steamed veggies.
Ingredients
4 English Cut beef short ribs, trimmed (roughly 8 oz each)

Kosher salt and fresh cracked black pepper

3 Tablespoons unsalted butter, divided

1 full bottle of 6 Degrees Pinot Noir

4 cups low-sodium vegetable stock

4 cloves garlic, peeled and smashed