Citrus-Garlic Roasted Chicken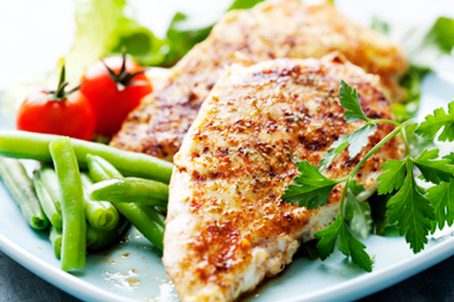 PAIRS WITH



Instructions
Preheat oven to 375 degrees and put a rack on a rimmed baking sheet.
Put orange and lime zest in a small bowl and add the fruit juices. Whisk in olive oil, garlic, 1 teaspoon salt and a generous grind of black pepper. Place chicken in a large bowl and pour marinade over chicken until well coated. Marinate for 20-30 minutes.
With tongs, remove chicken from marinade and arrange chicken pieces on wire rack with space between each piece. Drizzle a small spoonful of marinade over the top of each piece and season well with salt and pepper.
Roast until chicken is cooked through and juices run clear when pierced with a knife, about 45 minutes.
Transfer chicken to a serving platter. Cool slightly before serving.
Garnish with lemon slices and serve with oven fries.
Ingredients
4 large, bone in, skin on chicken breasts

½ naval orange, zested, plus the juice of 1 whole orange

2 limes, 1 zested, both juiced

½ cup extra virgin olive oil

4 large cloves garlic, peeled and smashed

1 teaspoon kosher salt and freshly cracked pepper