Bud Break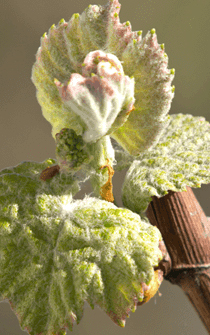 BUD BREAK

THE GROWING CYCLE BEGINS
The grape starts its annual growth cycle in the spring with bud break. In the Northern Hemisphere, this stage begins around March while in the Southern Hemisphere it begins around September when daily temperatures begin to surpass 50°F (10°C). If the vine had been pruned during the winter, the start of this cycle is signaled by a "bleeding" of the vine.
FLOWERING

FIRST SIGNS OF FRUIT
Depending on temperatures, 40–80 days after bud break the process of flowering begins with small flower clusters appearing on the tips of the young shoots looking like buttons. Flowering occurs when average daily temperatures stay between 59–68°F (15–20 °C) which in the Northern Hemisphere wine regions is generally around May and for the Southern Hemisphere regions around November.